Special Sessions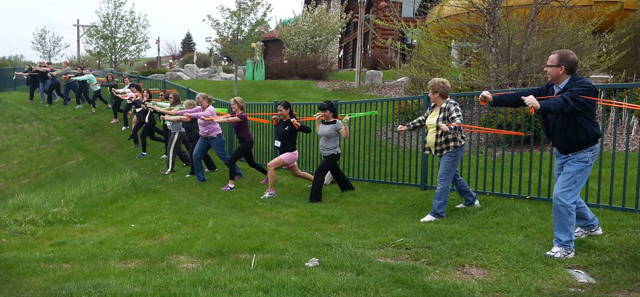 Custom EcoTrek Fitness Series
Perfect for corporate events, church groups, bridal parties, milestone birthday and other special events
Regular EcoTrek sessions meet at various outdoor locations throughout Michigan at various times throughout the week and are perfect for those who enjoy being outdoors, but also want to add a little cardio, flexibility stretches, some basic yoga, strength training and gentle breathing techniques! These sessions can easily be adapted to one-time or series of sessions, customized for your group … either at an existing EcoTrek location, or created specifically at a location nearest your location!
Contact Cari at cari@ecotrekfitness.com to receive a personalized proposal for location, cost and session content.
Group sizes from 10 to 50+
$5 to $12 per person, based on location, content and group size
(Almost) anywhere in Michigan!
Bridal fitness programs
Brides are for the most motivated of recruits: a woman about to don a wedding gown in front of friends, family, and a dreaded photographer. Embarking on a diet or workout plan is not uncommon among the newly betrothed, but now EcoTrek Fitness offers group fitness packages for brides-to-be, her bridesmaids and friends … or get the guys involved too and make it an outdoor fitness adventure, preparing for your Big Day together!
Birthday happening soon?
Why not take your friends out for your own personal EcoTrek Fitness session? Whether you treat them all to a great workout, or they each chip in and pay for yours too, an EcoTrek Fitness session is the perfect way to celebrate your special day and get something good out of it!
Think about EcoTrek Fitness when any special occasion arises … these sessions can be customized anywhere for any occasion, let Cari help you get creative with a memorable event!
Other Outdoor Activities
One fun "perk" of being an EcoTrekker is you always get invited to explore and expand your outdoor activity menu! Several times throughout year, EcoTrek Fitness offers these special events and mini-series in various areas:
StandUp Paddleboarding
Popular with our water adventurers the past few summers, we typically schedule a couple of one-time events or 4-6 week series, depending on interest in each area.
Kayaking
You're always welcome to bring your own kayak and equipment. In most cases, we'll also have a special arrangement for you to rent a kayak and equipment, especially if you are new to kayaking.
Bicycling
No fancy jerseys or souped-up bikes needed, we are in this for fun, and you will not be out to beat a certain time or qualify for a race! We concentrate on road and bike path biking, but might add mountain biking on trails occasionally, if there is enough interest in a particular area.
Snowshoeing
During winter when the snow is deepest here in Michigan, EcoTrek Fitness offers snowshoe events for a change of pace. If you've never tried snowshoeing before, this is the group you want to go with … we include all fitness levels at our events!
You'll need your own snowshoes, borrow from friends or we can hook you up with rentals - just let us know ahead of time.
Contact Cari at cari@ecotrekfitness.com to request the information via email, and include any questions or special concerns in your request.